Main content starts here, tab to start navigating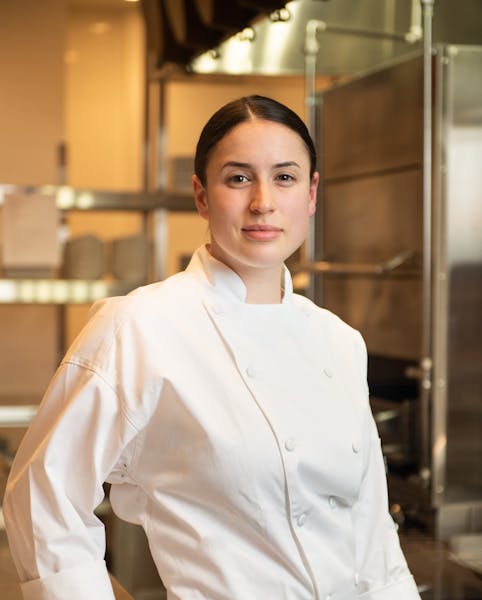 Lindsey Bittner
Lindsey Bittner brings her classic training and years of experience working in some of New York's most prestigious pastry kitchens to the team at Leonelli. Lindsey graduated from Johnson & Whales University in Providence, RI with a degree in Baking & Pastry Arts. During that time, she also completed a certificate in French Pastry Arts from the Ecole Nationale Supérieure De Pâtisserie in Yssingeaux, France. "That's when it really clicked for me; how far you can take pastry, and all of the things you could do with it," says Lindsey.
Lindsey then moved to New York where she served as a Pastry Cook at the three Michelin-starred Jean Georges and Le Bernardin restaurants. It was there where she learned how to continuously execute high standards of excellence and professionalism. Wanting to further develop her skillset, Lindsey then took on the role of Baker at the famed Maison Kayser, where she honed her knowledge of the art and science of bread baking.
From there, Lindsey became Pastry Sous Chef at Gramercy Tavern under the famed Miro Uskokovic. During this time, she learned about leadership and teamwork in her managerial role, as well as a seasonally-driven approach to pastry. "Working with Miro taught me how to take one ingredient at the peak of its season and become inspired to create a whole dessert around it." She collaborated with Chef Miro on the ever-changing dishes highlighting local produce from the Union Square Greenmarket, as well as the restaurant's bread program.
Lindsey is excited by the opportunity to combine her baking and pastry knowledge to create the diverse range of offerings at Leonelli Taberna and Focacceria. She applies her classic French training and a deep study of Italian baking methods to form the menu of plated desserts, cookies, pastries, and more. Originally from Long Island, Lindsey adds, "Italian pastry shops are part of the NY culture. When you talk about nostalgia, you don't necessarily need to be Italian American, you can just be a New Yorker."